The MiCa (Markets in Crypto-assets) regulation was approved by the European Parliament today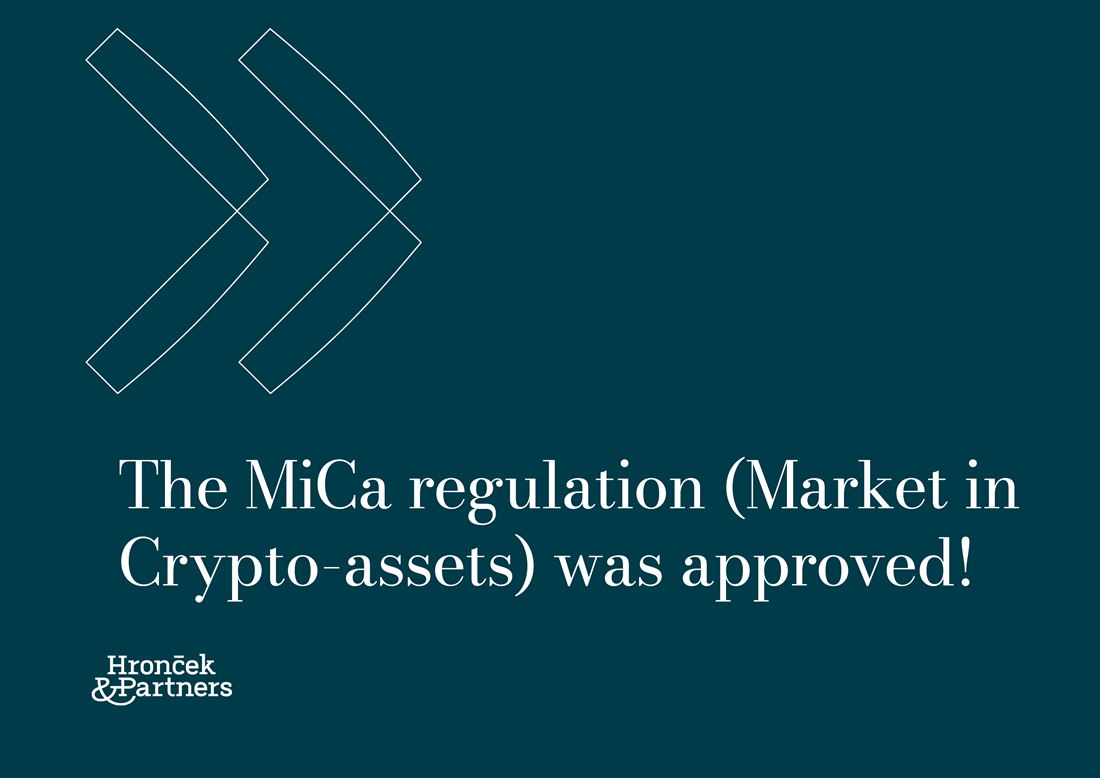 The European Parliament has today officially adopted the Markets in Crypto-Assets Regulation (MiCA), a landmark piece of legislation aimed at providing legal clarity and investor protection in the rapidly evolving crypto industry.
MiCA is a comprehensive framework designed to regulate the issuance, trading, and custody of crypto-assets within the European Union (EU). It establishes a uniform set of rules and standards for crypto-assets, covering everything from their definition and classification to their issuance and trading.
The regulation is the result of years of consultation and collaboration between industry stakeholders, policymakers, and regulators. It was first proposed by the European Commission in September 2020 as part of its broader Digital Finance Strategy (together with Pilot regime for market infrastructures based on DLT and Digital Operational Resilience Act - DORA), and has since undergone several rounds of public consultation and scrutiny, which the Hronček & Partners, s.r.o. law firm was proudly a part of.
MiCA has been widely welcomed by both industry players and regulators, who see it as a crucial step towards bringing the crypto industry into the mainstream and addressing some of the key concerns around consumer protection, market integrity, and financial stability.
One of the key provisions of MiCA is the creation of a new category of financial institutions called "crypto-asset service providers" (CASPs), which includes entities involved in the issuance, trading, and custody of crypto-assets. CASPs will be required to register with their national competent authority and comply with a set of minimum requirements, including capital and governance requirements, as well as rules around client asset protection and operational resilience.
MiCA also introduces a harmonized regime for stablecoins, which are crypto-assets designed to maintain a stable value relative to an underlying asset, such as a fiat currency or a commodity. Stablecoins will be subject to the same rules as other crypto-assets, but with additional requirements around transparency, investor protection, and safeguards against liquidity and credit risk.
Other key provisions of MiCA include rules around whitepapers and disclosure, market abuse and manipulation, and cross-border provision of crypto-asset services. The regulation also establishes a new framework for supervision and enforcement, with the European Securities and Markets Authority (ESMA) playing a key role in coordinating and overseeing national competent authorities.
The adoption of MiCA has been widely hailed as a significant milestone in the development of the crypto industry and the broader digital finance landscape. It is expected to provide greater legal certainty and regulatory clarity for businesses operating in the sector, while also enhancing consumer protection and reducing the risk of financial crime and market abuse.
However, some industry players have raised concerns about the potential impact of MiCA on innovation and competition, arguing that the regulation could stifle new entrants and restrict the development of new business models. Others have called for more clarity around certain provisions, such as the definition of a crypto-asset and the scope of the regulation.
Overall, the adoption of MiCA is seen as a positive step towards creating a more mature and responsible crypto industry, while also promoting innovation and ensuring the continued competitiveness of European market.

We will also reflect this regulation in our articles and within the e-book AllAboutNFT and within AllAboutNFT project. More information soon.